THE PROBLEM WITH SURVEYING CONSUMERS ABOUT ADVERTISING
Let us be direct with you – we didn't get the results we wanted. We wrote and rewrote the survey, replaced assets countless times, and consulted the experts and yet the data just didn't work in our favor.
Asking consumers about how they feel about ads is infinitely challenging. Results are unanimous almost every time: Ads are annoying. They are seen as intrusive, irrelevant, and unavoidable nuisances of the internet. Which begs the question–why do brands keep using them? Because time and time again digital advertisements prove their value.
At TripleLift, we wanted to quantify how consumers felt about different ad experiences. We surveyed 1,013 individuals in the U.S. and asked them a series of questions relating to various ad formats including pop-ups, in-stream video, and banners. The goal was to prove that native ad formats were the least intrusive but most interesting. Turns out, we were half right: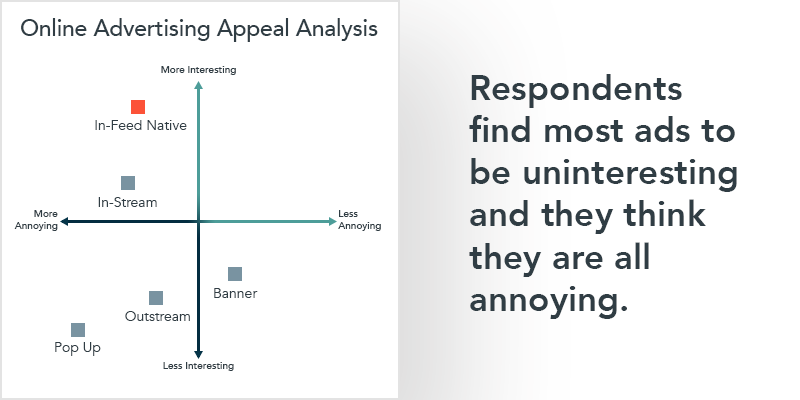 IDENTIFYING THE 'REALITY' WITH BEHAVIORAL RESEARCH
Respondents think In-Feed Native ads are pretty interesting, but they said all ads are annoying. While this isn't ideal for the purposes of the study, it makes sense in everyday life. Think back to the last ad you saw – do you remember it because it was interesting or annoying? Maybe a little bit of both? Chances are, the ad you remember wasn't a traditional banner ad.
Yet, in our study, consumers ranked banner ads as their most preferred ad format. Why? Because banners often aren't an accolade of engagement- they are the result of users subconsciously ignoring an ad placement because consumers know exactly where and when they will appear on a page. We know this because 86% of consumers couldn't recall the last banner they saw, per a third-party study.
At TripleLift, we see that too – through our 312 eye tracking studies comparing Native Units vs. Banners, users are 25% more likely to view a Native ad over a banner ad, with 179% more time spent on that native ad. In this eye tracking heat map, the red represents the most time a viewer spent looking at something. Consumers often block out the right hand rail because they're conditioned to keep eyes away from banner hotspots. In-feed native forces eyeballs on the content, and therefore focus on the ad itself.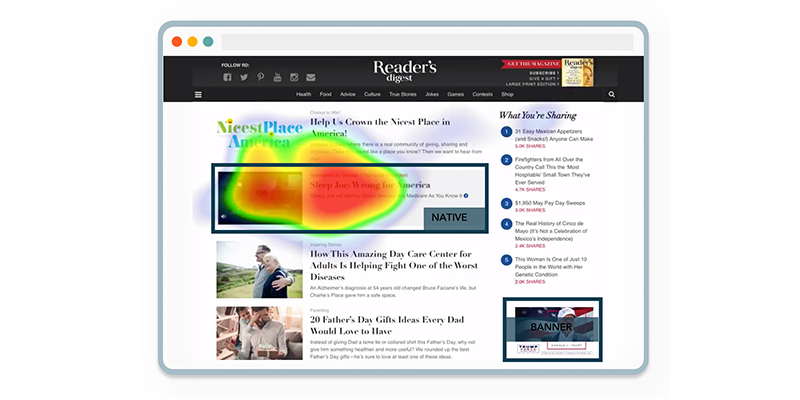 Yet, in our initial study, consumers ranked banner ads as their most preferred ad format. So why wasn't in-feed native ranked as the most preferred ad among our respondents? There is a good chance respondents were either unaware of or unfamiliar with the difference between a native ad and other types of ad formats. In addition, consumers' perceived behavior often varies from their actual behavior. Over half of respondents said ads were annoying in our survey, but only 27% of American internet users block ads. There is a disconnect between their sentiment and actions.
CREATE 360 OUTLOOK THROUGH MULTIPLE METHODOLOGIES
It can be difficult for even the most seasoned marketer to measure and understand consumer perception and behavior. The next time you receive results that are less than optimal, don't label it as "dead data" and throw them out! Try pairing those findings with another methodology to add qualitative and quantitative understanding as to why the results turned out the way they did.
An independent study, like our survey, is great for gauging how an audience feels about a familiar topic, such as food consumption, credit card use, or media consumption. But don't rely solely on those results, additional third-party measurement studies provide the behavioral context needed to get the big picture. Eye tracking studies are a quick, efficient, and cost-effective way to understand how users interact with media. Without our arsenal of eye tracking studies, our survey could have falsely crushed our in-feed native dreams.
Sources: TripleLift Eye Tracking Studies (n=312), InfoLinks http://www.adotas.com/2013/03/study-86-of-consumers-suffer-from-banner-blindness/, BlackLin, 2021 https://backlinko.com/ad-blockers-users