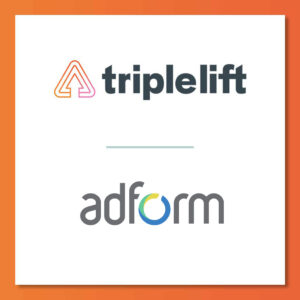 New direct integration gives Adform advertisers more efficient and effective access to custom ad formats at a global scale
The newly launched direct integration with TripleLift, one of the world's largest independent multi channel SSPs, gives Adform's advertisers a more efficient way to buy unique native, video and display inventory across the globe.
"We're excited to offer direct access to the largest independent native exchange through Adform's Integrated Advertising Platform. We pride ourselves on reacting swiftly to our customers' needs, so partnering with TripleLift is a logical choice that will provide advertisers direct access to unique premium supply within brand safe environments. We look forward to evolving our partnership and working closely with Triplelift," said Gustav Mellentin, EVP, Co-founder, Adform.
Vittorio Capasso, Partner Manager at Adform said: "TripleLift's premium native and video scale across In-Feed & In-Article placements in the US is unparalleled because it not only performs but it remains cost efficient and is backed by highly responsive regional Partner Management teams to support our requirements, deals and objectives throughout the campaign lifecycle".
Richard Kanolik, Programmatic Lead at Vodafone UK, a leading technology communications company and key Adform client, said:"In a UK market where publisher content credibility and brand safety is now key, it is reassuring to know that TripleLift's direct-only publisher relationships, best-in-class content standards and partnerships with NewsGuard, IAS and JICWEBs are in place to avoid monetizing inappropriate content whilst ensuring video reach across a diverse publisher landscape."
As the industry grapples with an influx of websites promoting misinformation and hate speech, TripleLift is among the first supply-side exchanges to forge a partnership with NewsGuard, the company that rates the credibility of news and information sites. The partnership provides advertisers' an additional layer of protection, and helps to ensure that ad dollars are working towards meeting campaign objectives.
Koto Ayodeji, TripleLift's Senior Director of Platform Partnerships, said: "As a result of this partnership with Adform, buyers are benefiting from not only more working media dollars, but also superior win rates and a larger addressable audience. Our Partner Management team is looking forward to working more closely with advertisers and scaling the partnership in 2021."
In 2020, Adform's partnership with TripleLift, across all formats, yielded a 35% increase in ad spend. This growth comes on the heels of consumers' increasing the amount of time spent with digital media by nearly one hour in 2020; the biggest increase since 2012. With total digital time on track to surpass 8 hours by the end of 2022, Adform's integration with TripleLift offers advertisers access to a direct and transparent path to native, video and display inventory at scale.
About Adform
Adform is the only global, independent and fully integrated advertising platform built for modern marketing. Its unique enterprise technology – Adform FLOW – harnesses superior user experience and a scalable, modular and open architecture, to enable seamless management of the whole campaign lifecycle. It provides clients with enhanced control and transparency across their advertising operations, including ownership of all data from their campaigns. Since 2002, Adform has developed technology to enhance human/machine collaboration and deliver augmented intelligence, thereby amplifying business results for its clients around the world.
About TripleLift
TripleLift, one of the fastest-growing ad tech companies in the world, is a technology company with products at the intersection of creative and media. Its mission is to make advertising better for everyone — publishers, advertisers and consumers — by reinventing ad placement one medium at a time. With direct inventory sources, diverse product lines, and creative designed for scale, TripleLift is leading the next generation of programmatic advertising from desktop to television. Working with 90% of the publishers on the comScore 200, 100% of the brands on the AdAge 100, and 100% of the top 20 global DSPs, TripleLift has grown its revenue by high double digits since inception and has now recorded five years of accelerating profitability. TripleLift has appeared on the Inc. 5000, Deloitte Technology Fast 500 and Crain's New York Fast 50 for four consecutive years, and has been on Business Insider's list of Hottest Ad Tech Companies for the last two years. Find out more information about how TripleLift is shaping the future of advertising at triplelift.com.