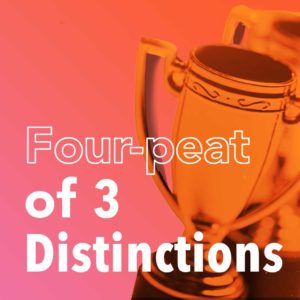 The email below was sent by CEO Eric Berry to all employees on the occasion of TripleLift earning distinctions from Inc., Deloitte and Crain's, each for the 4th year in a row.

To all TripleLifters,
As the year is wrapping up, I have some more good news to report.
TripleLift has just completed a "four-peat" of distinctions in the business world. For four consecutive years, we have earned the right to appear on three important lists: The Inc. 5000, Deloitte Fast 500 and Crain's Fast 50. To appear on each list, companies need to demonstrate high rates of growth. And TripleLift has been bringing the goods for four straight years.
The Inc 5000 ranks companies across industries by revenue growth over a three-year period. In that span, TripleLift ranked #1,402. The Deloitte Fast 500 measures the fastest growing technology companies in North America and we came in at #202 on their list. Crain's placed us at #24 on their list of fastest growing New York-based companies alongside impressive peers such as Lemonade, Peloton, Noom, Compass, WeWork and Brooklinen.
The best part is that our metrics continue heading up. None of these surveys takes into account the full calendar year 2020, where our exponential growth has continued. So when we submit again next year we should have a good chance of making it five-for-five. We already know that 2020 will be our 9th consecutive year of high double digit (or more) revenue growth, and our 5th year in a row of accelerating profitability. Meaning: we are doing better year-over-year in our bottomline, even as we are getting larger in our topline.
You routinely hear me talk about the balance of the human and math sides of our business. We focus attention and resources on our people to unlock success that materializes in our numbers. So, while we routinely celebrate our human accomplishments, it's incredibly gratifying to receive acknowledgement for the results themselves.
Exceptional growth, driven by exceptional people.
Congratulations to the whole team on these great distinctions.
Eric