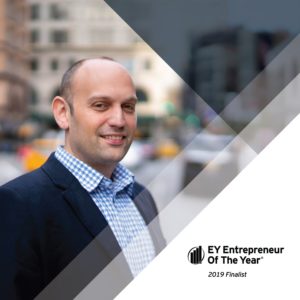 TripleLift CEO and Co-founder Eric Berry was named a finalist for EY Entrepreneur Of The Year® 2019 New York Awards.
EY's Entrepreneur Of The Year® is widely considered one of the most prestigious business awards programs in the U.S., recognizing entrepreneurs and leaders of high-growth companies who are excelling in innovation, financial performance, and personal commitment to their businesses and communities, while also transforming our world.
Eric's inclusion in the list of finalists speaks to his success since co-founding TripleLift in 2012. Under his leadership, the company has launched new products across native, branded content, branded video, and OTT to further support our mission to reshape the digital advertising landscape with consumer-centric advertising. Between 2012 and 2017, TripleLift grew at least three times each year, and in 2018, the company saw 2x growth as it neared $100 million in revenue — earning it a position on the Crain's New York 2018 Fast 50 list. TripleLift continues to grow globally, with company openings across Germany and Australia.
As a finalist, Eric is in great company. In its 33 years, Entrepreneur Of The Year has recognized business leaders who are disrupting industries with new technology and products in more than 145 cities and more than 60 countries throughout the world. The program has honored entrepreneurs Howard Schultz of Starbucks Coffee Company, John Mackey of Whole Foods Market Inc., Pierre Omidyar of eBay, Inc., Reid Hoffman and Jeff Weiner of LinkedIn Corporation, and Mindy Grossman of HSN, Inc. Past winners from New York include KIND Healthy Snacks, aden + anais, Happy Family Brands, Regeneron Pharmaceuticals, and Frontier Communications.
"Inclusion on this list of finalists is a huge honor for me and TripleLift. We pride ourselves on being trendspotters and providing forward-thinking solutions to embracing those trends. 2019 will continue to be a year of growth and innovation for TripleLift as we continue to empower advertisers and content creators to offer integrated ads that provide consumers with non-disruptive experiences." — Eric Berry
We congratulate Eric on this wonderful achievement!
Award winners for Entrepreneur Of The Year® 2019 New York Awards will be announced at a special gala event on June 20, 2019, at the Marriott Marquis. See the full list of 2019 New York regional finalists.