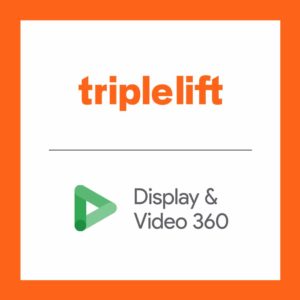 Authored by: Chelsea Murray, Account Director, Platform Partnerships, TripleLift

Marketers now have direct access to TripleLift Native, Video and Display supply in Display & Video 360. TripleLift is the world's largest source of In-Feed inventory with premium placements that blend seamlessly with the look & feel of publisher pages.
Here are some of the key benefits of a direct integration:
More working media dollars.
Consolidation in the programmatic supply chain allows new and existing buyers to maximize the value of their working media budgets. In addition to this, direct buyers have access to net-new publishers that weren't previously available via intermediaries as well as larger audience pools across all publishers.
Trading workflow improvements.
With a direct integration, buyers can select 'TripleLift' as an exchange in the same place they select all other key partners on Display & Video 360. Those looking to extend the reach of Social campaigns will reap the benefits of the direct integration beyond ROI — they now have the advantage of scale too. Buyers can repurpose their Social assets for Native programmatic and leverage Display & Video 360 Native capabilities.
Better performance across the funnel.
We've seen positive increases in performance in moving to a direct integration, most notably win rate. Better win rate means more working media dollars at play, which clients have been thrilled about.
For more information on how to access this inventory, reach out to dv360@triplelift.com