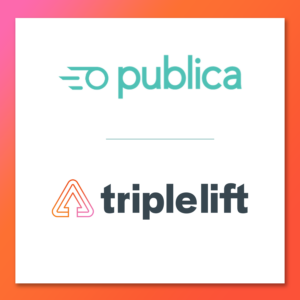 Integration offers publishers ad podding automation to maximize yield
TripleLift, a top three programmatic video supply company, and Publica, the leading Connected TV ad server, today announced an expanded partnership to enhance in-break ad monetization opportunities for Connected TV (CTV) publishers.
The expanded partnership – which includes a direct integration with Publica's ad server – offers CTV publishers more control over their inventory and additional opportunities to maximize yield with TripleLift's in-break solutions.
"As time spent increases across the digital video landscape, publishers are seeking new ways to deliver best-in-class advertising experiences while maximizing yield," said Michael Lehman, SVP Global Supply, TripleLift. "Publica's ad serving technology gives our publishers a smart alternative to the VAST waterfall model, and ensures a true TV experience for the viewers and the advertisers."
"TripleLift's integration with Publica offers publishers on our platform an easy way to access advertisers' CTV budgets, and one of the most efficient ways for marketers to reach quality CTV publisher inventory through their DSP," said Ben Antier, Co-Founder and CEO at Publica.
With Publica's ad podding automation, publishers can apply competitive separation and creative deduplication rules to deliver the same high quality viewing experience as linear television, while enjoying unique, quality demand for the entire ad break.
"We're always looking for ways to maximize our fill rate and boost revenue. By using Publica's header bidding solution to access programmatic demand from TripleLift, and thanks to an easy set-up, we immediately saw incremental demand from premium buyers. We're confident that we are now seeing the most efficient yield possible," said Raymundo Olivo, Director, Programmatic Strategy & Operations at Ziff Davis.
In addition to ad podding automation, TripleLift publisher partners can run a unified auction with Publica's Header Bidding wrapper solution, allowing them to evaluate all their demand at once, increasing efficiency and revenue.
Publishers using Publica's ad serving technology in place of a VAST tag accessed TripleLift demand faster and saw on average 20-30% higher CPMs.
In 2021, consumers' time spent with digital video – online video and Connected TV – is expected to jump 33 minutes per day since 2019, with the largest growth (%) in time spent attributed to Connected TV. In April, TripleLift unveiled a full-funnel suite of digital video solutions for the three ways audiences consume video across Online Video and Connected: In-Feed, In-Break and In-Show.
About TripleLift
TripleLift, one of the fastest-growing ad tech companies in the world, is a technology company rooted at the intersection of creative and media. Its mission is to make advertising better for everyone— content owners, advertisers and consumers—by reinventing ad placement one medium at a time. With direct inventory sources, diverse product lines, and creative designed for scale using Computer Vision technology, TripleLift is driving the next generation of programmatic advertising from desktop to television. As of January 2021, TripleLift has recorded five years of consecutive growth of greater than 70 percent. TripleLift is a Business Insider Hottest AdTech Company, Inc. Magazine 5000, Crain's New York Fast 50, and Deloitte Technology Fast 500. Find more information about how TripleLift is shaping the future of advertising at triplelift.com.
About Publica
Publica is the leading Connected TV Ad Server and works with many of the world's biggest broadcasters, TV manufacturers & OTT Apps. Publica provides solutions for Publishers to maximize their revenue across their CTV inventory through 4 key features:
Unified Auction: holistic yield between direct campaigns and any of the 20+ SSPs connected to the platform via server-to-server connections.
Ad Pod Management: Optimized ad podding to deliver tv-like user experience while maximizing revenue for the publishers.
Audience Management: Ability to forecast and target any First or Third Party Data via a unique integration with the LiveRamp ecosystem designed for CTV
SSAI: Server-Side Ad Insertion solution designed for the scale and complexity of the programmatic ecosystem.
---
1 TripleLift Internal Data, April 2021
2 eMarketer, US Time Spent with Media 2021 Update