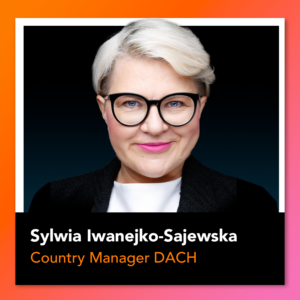 TripleLift has announced it is expanding its commitment in the DACH region by appointing Sylwia Iwanejko-Sajewska as the new Country Manager DACH. With more than 15 years of experience in digital advertising and ad tech, Iwanejko-Sajewska is uniquely equipped to grow the team in Germany and drive TripleLift's business in the DACH region. TripleLift is one of the world's largest supply-side platforms for programmatic advertising and works with leading AGOF publishers and media agencies in Germany.
Media houses and advertisers alike are facing massive challenges. Rising inflation, recession fears and disrupted supply chains are impacting advertising spend. For example, the balance for the overall advertising spend market in Germany was minus 10.3 percent in July compared to the same time last year. Added to this are the problems caused by the removal of the cookie. "Right now, efficiency matters more than ever. The time to rethink supply path and demand path optimisation strategies could hardly be more critical…" explains Sylwia Iwanejko-Sajewska. "As an essential marketplace, we offer publishers and advertisers comprehensive and compelling products that meet our responsibility to the entire ecosystem and enable them to future-proof themselves."
With the acquisition of the Swiss data platform 1plusX in March of this year, TripleLift has already paved the way to build a team of experts in the DACH region and strengthen the support service for its customers in the German market as well.
Innovative "Media+Data" approach provides answer to the third-party cookie dependencies 
TripleLift, as one of the leading omnichannel programmatic supply-side platforms, offers the scalable and privacy-compliant answers the industry is looking for in the post-cookie era with its innovative "Media+Data" approach. In doing so, TripleLift is forging a new path that allows publishers to monetise their content and advertisers to reach their target audience without relying on third-party cookies. 
Sylwia Iwanejko-Sajewska: Well-connected and multiverse
Sylwia Iwanejko-Sajeweska has been active in the German digital industry for many years and is very well connected. Thanks to her more than 15 years of experience in digital advertising and adtech, she knows the challenges and needs of publishers, agencies and advertising companies.  Before joining TripleLift, Sylwia Iwanejko-Sajewska was, among other things, Vice President of Sales DACH at the programmatic expert Hivestack, Head of Buyer for Central Europe at the sell-side advertising platform Magnite, Senior Key Account Manager for the DACH business of the music and entertainment platform Vevo and held various positions at the global data platform plista and the international agency network IPG. Sylwia Iwanejko-Sajewska was also active in the German Digital Economy Association for many years and also advanced important issues in the industry. 
TripleLift at DMEXCO: Masterclass and exhibition stand
TripleLift will be addressing the hot topic of "Addressability in the Post-Cookie Era" at this year's DMEXCO in Cologne. As first-party data becomes the new currency for digital advertising, advertisers and publishers need the right tools to redefine the way they target and reach audiences. TripleLift will discuss how advertisers can successfully respond to changing market demands with Data Clean Rooms and ID solutions without relying on third-party cookies in a masterclass with experts from Media Impact, NetID, Ad Alliance and MediaMarktSaturn on 21 September at dmexco.  TripleLift booth at DMEXCO: 071A035