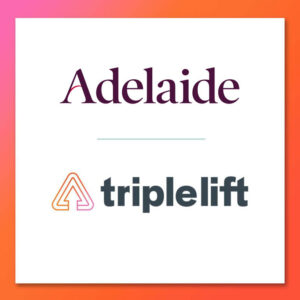 TripleLift, the ad tech platform elevating digital advertising across every screen, today announced that it has partnered with Adelaide, the leader in attention-based media quality measurement, to offer the first way to buy high-attention premium CTV deals that include guaranteed AU (Attention Unit) scores, certified by Adelaide.
Attention metrics have risen in importance as consumers increasingly turn a blind eye to advertising and make it harder for advertisers to drive performance. TripleLift has a large concentration of high attention programmatic placements because much of its inventory is made up of a combination of innovative formats and quality, directly sourced inventory that drives attention. In fact, Adelaide's research proves this. Using advanced attention measurement technology, they tracked hundreds of millions of TripleLift CTV impressions across multiple campaigns and found that TripleLift inventory performed 8% higher than Adelaide's CTV benchmarks on average.
Now, TripleLift is partnering with Adelaide to become the first SSP to offer guaranteed deal packages based on AU score. Adelaide's AU scoring process uses a machine learning model to consider hundreds of media quality signals and their weighted contribution to outcomes, generating a 0–100 omnichannel score reflective of a publisher's probability of attention and impact. Adelaide's CTV AU model also factors eye-tracking data from TVision, as well as ACR data from other providers. With over 100,000 domains measured, Adelaide continues to expand its robust and normative dataset to establish accurate industry benchmarks. 
"Adelaide's AU is becoming widely embraced across the ecosystem," said Marc Guldimann, CEO & Co-founder, Adelaide. "When we developed AU, our aim was to create an attention metric for media buyers to secure impactful inventory and for high-quality publishers to confidently guarantee quality. By leveraging our data in a unique way, TripleLift is furthering this vision and taking AU to the next level."
"We've leveraged attention scores to optimize and target on behalf of our clients for a few quarters, leading to strong results from brands such as the NBA and agencies like Mediahub," said Charlotte Schaefer, Product Targeting Lead at TripleLift. "Offering these placements is easy for us to do based on our high composition of quality placements. We're guaranteeing these deals so our clients can buy with confidence."
Through TripleLift Guaranteed AU deals, brands can now precisely target desired attention thresholds across campaigns, leading to increased control and quality assurance. Initially focusing on CTV, TripleLift plans to extend these guarantees to additional formats in the near future.
"Attention has been an excellent indicator to drive real-world outcomes for our brands," said Ed McElvain, EVP and Director of P3 at Mediahub. "Solutions, like what TripleLift and Adelaide have built, give our agency the ability to more efficiently reach users with high-attention media, at scale."
"Our journey with attention metrics started a few years ago as a first-to-market leader in the space, recognizing the need for real-time metrics linked to our brand and tune-in KPIs," said Larisa Johnson, VP, Global Head of Paid & Institutional Media at the NBA. "AU transformed our approach across all channels, helping us invest in high-quality media and redirect investments from underperforming areas mid-flight."
TripleLift's attention-based buying guarantee is available across quality inventory providers on the TripleLift platform. Buyers can start leveraging AU guarantees in their targeting by contacting their TripleLift sales representative.