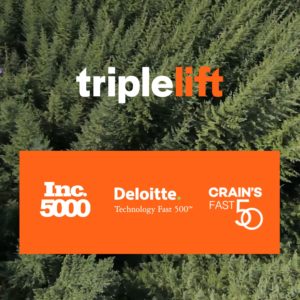 A better future, online and offline.
TripleLift is excited to announce that it will plant 3,756 trees to commemorate the honor of being awarded three fastest-growth business awards for three years in a row. Each planted tree represents a relationship built with an agency, publisher or partner that has worked with the company, helping to fuel its growth since its founding in 2012 by Eric Berry, Ari Lewine, and Shaun Zacharia.
As the technology company that invents, powers and scales ads that earn consumer attention, TripleLift is reshaping the digital advertising landscape with consumer-centric advertising that drives results for advertisers and unlocks new revenue streams for digital media publishers, app developers and television networks. The company has been profitable every year for the last three years, and in 2019 ranked on three fastest-growth awards lists: No. 562 overall and No. 55 in the Advertising and Marketing category on the Inc. 5000, No. 149 on Deloitte's Technology Fast 500™ 2019, and No. 21 on Crain's New York Fast 50. What makes this year's wins most notable is that they represent the third year TripleLift ranked on each of these lists.
Why Trees?

"We are proud of TripleLift's growth trajectory over the last few years, and our awards are a testament to our partners for allowing us to build a better online future that's thoughtful and respectful," says Ari Lewine, Co-Founder & Chief Strategy Officer. "As we began to think about how to commemorate this, we considered the significance of profit in the context of a world that's facing real environmental hurdles. There is a famous quote by filmmaker and activist Alanis Obomsawin that says, 'When the last tree is cut, the last river poisoned, and the last fish dead, we will discover that we can't eat money.' We've built a better internet. Now we're doing our part to build a better planet."
Beyond the symbolism of growth and beautification, trees provide vital clean air resources, water filtration, and habitat for 80% of the world's species of mammals, insects, fungi, moss, and plants. "They also provide jobs to over 1.6 billion people, absorb harmful carbon from the atmosphere, and are key ingredients in 25% of all medicines," according to One Tree Planted, the non-profit TripleLift will work with to plant trees across North America, Latin America, Asia, and Africa.
One Tree Planted notes that only 13-17% of the annual funding needed for restoration and conservation is met, and most of that funding originates from government or philanthropic sources. Out of the approximately $50 million contributed each year, only $10 billion is invested by the private sector. By supporting global reforestation, TripleLift is directly contributing to advancing corporate social responsibility and making a commitment to a more sustainable ecosystem — online and offline.