Authored by: Evon Hung, Senior Analyst, Product Research
Ever wonder why you might be browsing a website, then all of a sudden, you scroll past an ad for a Kate Spade Medium Satchel in Autumnal Red, the very same bag you were eyeing less than an hour ago?  Or reading an article, and in the midst of the content, suddenly find an ad for the pet treat delivery service you've been considering? What you're experiencing is Native advertising. And while giants like Amazon and Google churn out trillions of ads per day, when it comes to programmatic Native, it all started with TripleLIft. 
Programmatic Native Skyrockets Digital Advertising
Native advertising isn't new – print magazines and editorials have been doing it successfully for decades. Remember those magazines in the check-out aisle at your local grocery store? They had the latest and trendiest products featured seamlessly within the latest Branjelina news. Online Native content functions the same way. And as media has shifted in favor of digital, Native ads have ultimately become standard in the advertising industry.
Rewind to 2013: it's been a decade since programmatic advertising hit the scene, online ads are mainstream and we're all posting our embarrassing versions of the Harlem Shake on Instagram. The field is well established with robust real-time bidding capabilities and a variety of programmatic buying options. However, banner ads are the only ad format available in the programmatic space. And while initially banner ads generated high consumer curiosity, they are quickly garnering a reputation for providing a jarringly intrusive user experience.
Enter TripleLift: to close the gap, TripleLift invents an innovative new format: programmatic Native, providing viewers an ad experience with a more seamless, intuitive, and content-first approach. By pioneering this new product category and opening monetization efforts, TripleLift became the leader of Native to an essential SSP marketplace.
Ok, back to present day.
Since its inception, programmatic Native has redefined publisher partnerships and shifted major DSPs like DV360 and The Trade Desk to support innovative, non-standard formats. This is largely due to not only the advanced technology and forward-thinking user experience, but the performance that programmatic Native provides. For example, Native ads actually garner 2x higher click through rates than traditional banner ads (TripleLift's Ultimate Guide to Native Advertising, 2023), effectively and efficiently earning the consumer's attention, while creating an opportunity for them to interact with the  brand or product. 
Programmatic Native Ad Technology is Everywhere
As the format continues to evolve, its adoption rate continues to grow. In 2023 alone, marketers plan to allocate over a third of their new budget towards Native (TripleLIft Proprietary Data, 2022) with projections of programmatic ad spend in the United States reaching an all-time high of $83.4 billion.
The advertising industry continues to show strong interest in the evolution of Native technology. It's one of the reasons that the top DSPs chose our Native video as the preferred medium to show longer length content, empowering brands with amplified storytelling capabilities. By 2019, TripleLift had made a name for itself thanks to its managed service and creative activation processes and optimizations. When new players entered the market, TripleLift expanded its Native offerings by integrating the mechanics across a portfolio of video formats such as Online Video and now CTV. As Native continues its expansion in global markets, and a digital world without third-party data draws nearer, the format will only continue to thrive.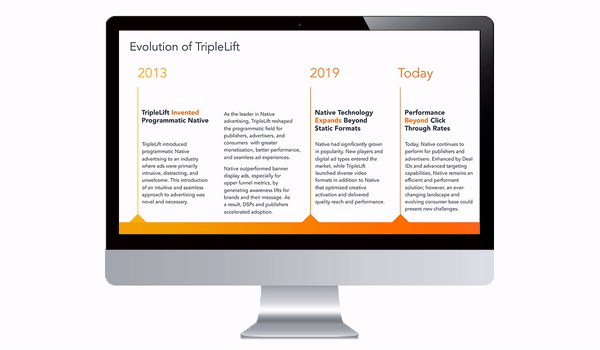 First-Party Data Solutions Paired With Traditional Formats Will Upgrade Audience Targeting 
3rd party cookie deprecation is underway and demand for audience retargeting, and overall targeting capabilities, are on the rise. In ever-changing environments, the future of digital advertising requires flexible and savvy solutions. TripleLift's relationships with publishers allow In-Feed Native to seamlessly fit into its surrounding context. With access to site optimizations, this backend technology should alleviate the stress of the so-called "Cookie Apocalypse".
Prioritizing partners who offer an array of first-party data solutions to connect with target audiences, along with premium in-feed Native formats will set brands up for success as the digital ecosystem continues to evolve. What's more, this approach will provide an upgraded user experience and better monetization opportunities for publishers. When advertisers are no longer able to rely on third-party cookies to target niche audiences, formats like In-feed Native, with high brand recall and awareness will be crucial for brands looking to stand out.
Learn more about how to best activate programmatic Native in our Ultimate Guide to Native Advertising.