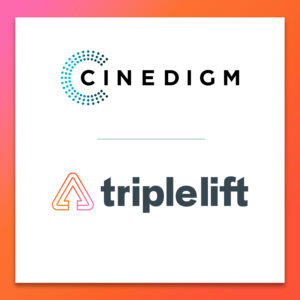 Cinedigm expands in-show advertising opportunities across its 15 FAST channels and over 15,000 on-demand titles
TripleLift, one of the largest advertising technology platforms in the world, today announced it has partnered with Cinedigm Corp. (NASDAQ:CIDM), a premier streaming and entertainment company super-serving enthusiast fan bases, to launch In-Show advertising for brands and advertisers across its flagship streaming service, Cineverse, and suite of FAST channels, including The Bob Ross Channel, Realmadrid TV, The Dove Channel and more.
Powered by Triplelift's In-Show programmatic technology, Cinedigm's Dynamic Overlay and Split-Screen ad units are contextually aligned to the content and delivered dynamically, which not only allow these products to be measurable and targetable for the first time, but also allow brands to leverage the Demand-Side Platform (DSP) of their choice.
"In-Show advertising is among the most promising opportunities for brands and advertisers to reach and engage viewers across Cinedigm's catalog of premium content," said Tony Huidor, Chief Technology & Product Officer at Cinedigm. "We know that advertising experiences should complement the quality of a viewer's content experience. We are excited to offer brands new and unique ways to stand out. That's where TripleLift's In-Show technology is a great fit for our needs."
According to TDG research, six in 10 households watched content on a FAST channel in 2021 – a number that is set to grow at a faster rate than any other platform this year. With In-Show advertising experiences, brands can reach these viewers in a contextually relevant and targeted way that complements traditional commercial spots across Cinedigm's FAST portfolio.
"The ad experience should be regenerative. The way we watch has evolved, but the ad experience has historically lagged behind. In-Show advertising solves for this," said Michael Shields, General Manager, Connected TV. "With In-Show advertising opportunities available across its FAST portfolio, Cinedigm remains at the forefront of the ad-supported streaming business delivering better results for advertisers and contextually relevant ad experiences for viewers, while introducing new monetization opportunities for the business."