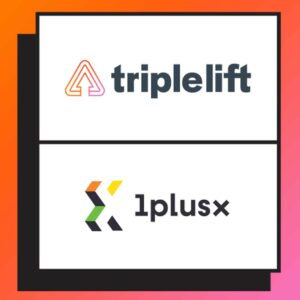 The following post was originally an email sent to TripleLift employees earlier this morning.
Embrace and Drive Change is a core TripleLift Value. We react to change and embrace it – both at a company and an industry level. The deprecation of both third-party cookies and cross app targeting means many parts of digital advertising will need to be rebuilt from the ground up. That's some major change. Today we're excited to announce that we have not only reacted to this challenge, but we are putting ourselves in the position to be the industry leader in the years to come.
TripleLift Has Acquired 1plusX
We have acquired 1plusX, an award winning first-party data activation platform. 1plusX is a Swiss technology company with some of the brightest minds in artificial intelligence. They have created a privacy-centric, consent-based system that provides a genuine alternative to the cookie and app ID based systems of today. This, in turn, will help both publishers and advertisers to activate their audiences with the scaled, effective, and privacy-friendly solutions our industry has been seeking.
Media+Data
Knowing that third-party cookies and app IDs would be deprecated sooner or later, we have been developing our Media+Data strategy for years – and 1plusX is a key pillar of this strategy. Media+Data means we combine the ability to offer unique publisher media, a core strength of ours, with unique and privacy-centric data that enriches that media – a core strength of 1plusX.
1plusX offers a first-party data platform that competes with traditional data management platforms (DMPs). While most traditional DMPs only provide insight into user behaviors, 1plusX's core product enriches publisher first party data with AI to create precise audience and content profiles in real-time. These profiles can then be activated on relevant channels from mobile to web to connected TV.
Why 1plusX
Advanced first-party data activation is at the core of our Media+Data strategy and 1plusX has built the most sophisticated technology in the industry. The company was founded by two former Googlers with Product and Data Science backgrounds, and is staffed by a brilliant team. They are smart, thoughtful and customer-focused. The more we talked, the more aligned we felt in our values and mission. This feeling was confirmed in the conversations we have had with their customers.
1plusX has dozens of publisher clients on their roster – major, global publishers like Axel Springer, Fox, Hearst and Le Figaro – who all raved about their team and offering in our reference checks. Digiday named the 1plusX the "Best Data Management Platform" in 2021. And, since the company is headquartered in Switzerland, their solutions are road tested for Europe's incredibly high privacy standards, which will give us an edge in all of the markets where we deploy our solutions.
Next Steps

People
We are excited to welcome all 58 members of the 1plusX team to TripleLift. On day one, 1plusX Co-Founder and CEO Jürgen Galler, along with most of the 1plusX team, will report to Ari Lewine, our co-founder and Chief Strategy Officer. 1plusX Co-Founder and Chief Science Officer Thomas Hoffmann will report to our SVP, Technology Jaison Zachariah. We will be integrating their team into our functional teams over the next several months.
Product
As mentioned above, this acquisition serves as a foundation for our Media+Data strategy. So we will be working with the 1plusX team to develop a joint product roadmap that creates the industry-leading, data-enabled media platform.
We will be co-developing a product to offer TripleLift publishers lightweight first-party data activation products to support both direct and programmatic ad sales, allowing for customization based on their needs. Early next year, we will offer TripleLift advertisers first-party targeting solutions that are scaled, effective and privacy-friendly – well in advance of even the most aggressive dates Google has circulated for third-party cookie deprecation.
In summary, our joint roadmap will:
Support and grow 1plusX's growing publisher business
Build net-new publisher offerings allowing for customization based on their needs
Build net-new advertiser offerings with the ability to target through contextual, behavioral, first-party, lookalike modeling and more
Partners
1plusX works with many leading international publishers, and we will grow their core business. Together we will continue to nurture those relationships with the personalized service and support that both of our organizations are widely recognized for and make those services available to TripleLift's existing publisher customers as well.
Better Together
Every employee of both companies will be needed to turn our ambitions into reality. As third-party cookies go away, Supply-Side Platforms have a critical role to play in filling the gap. We believe that together with 1plusX, TripleLift is best positioned to help make first-party data actionable for the programmatic ecosystem.
Coming together at this moment will allow us to:
Merge technology & scale – when combined with our scale, 1plusX's technology will offer our publishers and advertisers new ways to solve for industry challenges
Activate of our compatible publisher lists – 1plusX's impressive growth story is ripe for further acceleration by our scaled Publisher Development and PCS teams
Partner on our complementary geographical ambitions – our market-by-market strengths are perfectly suited to expanding each of our product sets
Bring new demand solutions to market – TripleLift's sales & support team – one of our main differentiators – makes us the best positioned SSP to bring advertiser-focused, cookieless solutions to market
Apply CTV data solutions to our business – 1plusX's CTV solutions – unique in the category – are compatible with our CTV business
You'll hear a lot more about this deal, our plans, and the integration over the coming weeks and months. We're excited to get this rolling.
-Eric