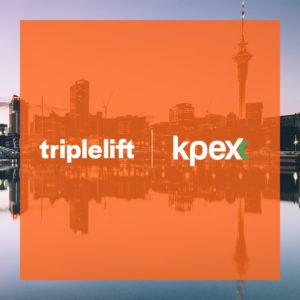 TripleLift is officially partnering with KPEX (Kiwi Premium Ad Exchange), the publisher consortium comprising all of New Zealand's largest media brands. With this collaboration, TripleLift will enable custom-designed in-feed native ads across KPEX's premium publishers.
TripleLift set the standard for respectful advertising, leveraging computer vision technology to programmatically deliver in-feed, user-friendly ads at scale. Now, TripleLift stands as the largest native advertising exchange and serves 176 billion monthly impressions across the world's leading publishers. February marked the opening of the company's Sydney office, bringing in-feed native programmatic advertising to the Asia Pacific region for the first time. Since then, our regional team has been partnering with the region's leading publishers, agencies, and DSPs to bring progressive creative ad formats to the local programmatic ecosystem.
KPEX launched in 2015 as an alliance between New Zealand's four largest media brands: Stuff, NZME, Mediaworks, and TVNZ. Today, it is the official programmatic sales channel for 14 local publishers, offering RTB access to New Zealand's most premium and brand-safe online ad inventory from 74 of the country's most popular sites, including Stuff, NZ Herald, Newshub and 1News Now. KPEX's scale enables it to reach 20% of the population every single day, and 80% of New Zealanders every month.
By combining forces with KPEX, TripleLift is drastically increasing its local reach and scale in New Zealand, allowing brands more effective opportunities to engage their audiences within fully brand-safe advertising environments alongside editorial-style content.
Simon Birkenhead, KPEX CEO, said, "Native ads are a high growth channel for KPEX due to the impact they generate for advertisers. We're excited to partner with TripleLift to enable its global advertisers to reach audiences in New Zealand."
Kevin Delie, TripleLift's Australia & New Zealand Country Manager, said, "KPEX brings a sophisticated programmatic offering with a rare and impressive combination of brand safety, prestige content, and scale. We're thrilled to be partnering with them to bring best-in-class ad experiences to the New Zealand market."