Preparing for the deprecation of third-party cookies requires solving multiple use cases for buyers. Our Prepper Playbook for Advertisers can help you break down preparation into digestible goals.
Why it matters — According to a joint study by TripleLift and AdAge, only 69% of marketers have implemented solutions that solve for privacy and identity. This is partly due to a lack of knowledge of which solutions exist and apply to their use cases. With 2024 approaching, buyers must start laying the groundwork and discover solutions that fit their media execution needs. The Prepper Playbook for Advertisers provides some general guidelines and battle cards to kickstart the conversation.
While this may seem like an enormous task, many solutions are still in mid-development as the industry coalesces to test out and understand what will be viable from a technical and regulatory perspective. With the mystery and confusion out there, buyers need actionable guidelines that help clear a path forward.

We developed the Prepper Playbook for Advertisers to provide such guidelines to advertisers and agencies. Below are some highlights from our Prepper Playbook. It starts with buyer challenges regarding media execution and campaign management and ends with some forward-looking guidance.

Excerpts from the Prepper Playbook for Advertisers:
What Challenges Are Buyers Facing Right Now?
With the end of third-party cookies, media planning will become fragmented and browser-focused. This means a massive shift from how buyers might typically plan campaigns.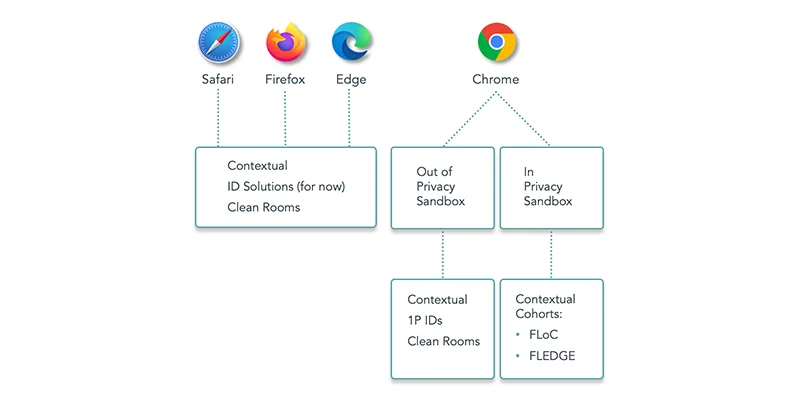 Not to mention…
Campaign reach may be impacted given that there's a likely chance of overlap in targeting strategies due to competing solutions.
Retargeting will look more like lookalike targeting without third-party cookies or broad ID adoption. And it won't be at the device level.
Retargeting may not be as successful as shifting the budget to prospecting campaigns or other upper/mid-funnel tactics.
What Should Buyers Do to Prepare for Changes in Measurement?
We know measurement will be impacted in a post-third-party cookies world. Likely with cross-domain measurement becoming limited to what browsers provide. Measurement will likely be limited in scope compared to what third-party cookies allow, resulting in more siloed measurement. Think: site-by-site, id-by-id, contextual segment-by-contextual segment, etc. During this time, buyers must investigate their current metrics and measurement strategy. This will help them understand the likely limitations the future holds.
Questions buyers should ask themselves:
What are my current KPIs?
What does my frequency capping look like?
Do I use a DMP that doesn't rely on third-party cookies?
Do I have a way to leverage my first-party data?
Should I start looking at cohort data (i.e., Privacy Sandbox)?
What Else Can Buyers Do to Prepare for 2024?
Test & Learn
Buyers can use Safari and Firefox, which have already deprecated third-party cookies, as testing grounds to find solutions. You can also use this time to evaluate creatives, formats, and performance metrics that meet your brand's needs.
Do some creative assets work better for campaigns that run on non-third-party cookie browsers?
For those browsers, are some ad formats more helpful than others?
Which performance metrics are still available with those browsers?
Of those available performance metrics, which have the most impact on future campaign decision-making?
Develop a Portfolio Approach to Privacy and Identity
While identity solutions are essential for marketers looking to onboard their first-party data, buyers may still need to diversify their approach to solving for privacy and identity to de-risk their future. This might run the gamut from leveraging first-party data to solving for Privacy Sandbox. It'll also dig into what would modernize contextual buys to be successful. Supply and other AdTech partners who develop multimodal approaches will be able to support a greater range of buyers' use cases. And buyers who also develop a portfolio approach to solving for privacy and identity will find themselves avoiding a major pitfall: too many eggs in one basket. Like what you read? Dig deeper with more actionable battle cards in the Prepper Playbook for Advertisers.