In a online climate of information overload, few things matter more to brands than capturing consumer attention.
But how can brands penetrate advertising noise and get that attention?
This was the main problem facing a popular CPG brand who wanted to increase consumer attention through their advertising campaign. To measure the success of the campaign, the brand set out specifically to evaluate viewability and efficiency. The brand successfully leveraged an Outstream video campaign across TripleLift's inventory via The Trade Desk, achieved 70% viewability, and drastically reduced costs.
Below, see how it was done.
Why Outstream Video?
Video is one of the most powerful advertising formats, with in-view time as high as 17.20 seconds. The combination of sight, sound and motion can stop a consumer in their tracks, and — if the content is captivating — keep them there. This is only enhanced when those videos are in-feed, with data showing native placement gives ads a lift of 168% in attention and 68% in awareness that drives brand recall.
TripleLift's Outstream video format not only offers the engaging power of video, it respectfully engages a consumer and allows them to gradually and naturally interact with the advertising content. The video only starts when at least 50% is in view, and gives the user the option to activate sound at their will.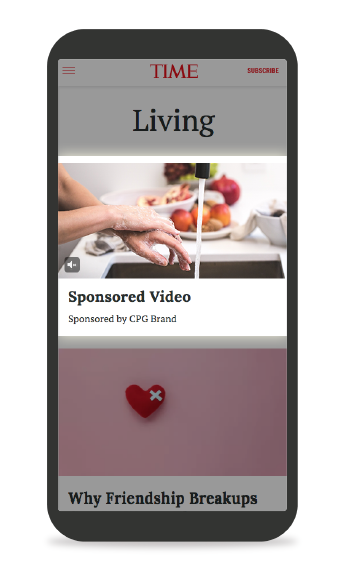 When the time came to advise the CPG brand on what advertising format would fit their goals of viewability and efficiency, TripleLift felt Outstream had the highest potential to deliver on those goals.
Implementing the Campaign
The campaign ran for three and a half months across TripleLift's inventory via The Trade Desk. The brand was able to capitalize on some of the most distinct features of TripeLift's Outstream format, including:
Ease of implementation: Outstream only requires a video asset, so launching these ads is as simple as uploading your video into your DSP's video workflow. The branded copy is automatically generated for the brand.

Efficiency & Premium Inventory:

By Targeting TripleLift within The Trade Desk

, the brand was able to easily pick a set of premium publishers on which to distribute their content and target users.
Successful Campaign Results, Explained
The CPG brand not only reached their target audience, they actually got them to watch their video and achieved 70% viewability, as measured by Moat — surpassing the industry benchmark of 56.5%.
The client was also able to drastically reduce cost, with an effective Moat Viewable CPM that was $5.40 less than benchmark expectations and a Cost Per Completed View (CPCV) that beat the benchmark by 50%. With lower costs, the brand could reach more users for their budget.
When it comes to brand attention, case studies like this signal that users enjoy watching Outstream videos at a higher rate than other video ads because of their respectful and naturally engaging features. And when these formats only require video assets that brands and agencies can quickly and easily implement, it's a win-win for the advertising ecosystem.
Interested in learning more about Outstream video for increasing consumer attention? Download this case study, contact your TripleLift representative, or email rtb@triplelift.com.