When it's time to run video ads through your DSP, which format will you choose, and why? What videos are most likely to get the highest return for your client's KPIs? How can you optimize campaigns for better performance?
The face of video advertising is changing rapidly. It currently makes "up to 26% of non-social native spend — a growth of 63% over this time last year," and advances in technology are opening new doors in the video landscape. Running competitive campaigns means understanding what's on the horizon. Read on to see what you can expect for the future of video ads in the coming year.
Advertisers Are Moving Outstream
Many advertisers are accustomed to Instant-Play Video and Click-to-Play Video ad options. Both are available as native formats within TripleLift and combine custom headlines and captions with sight, sound, and motion to capture a user's attention. But now advertisers are increasingly moving toward more traditional video formats such as Outstream Video. This format acts similar to Instant-Play Video, but makes video implementation even easier because it automatically populates a standardized headline and caption — so advertisers and agencies don't need to worry about developing specialized copy for each ad. This is a growing environment, with Outstream formats yielding 38% higher cost per completed view (CPCV), 34% higher viewable CPM, and 20% higher completion rates than Instant-Play video (based on TripleLift data). With Outstream, activating effective branded video in premium in-feed inventory is easier than ever.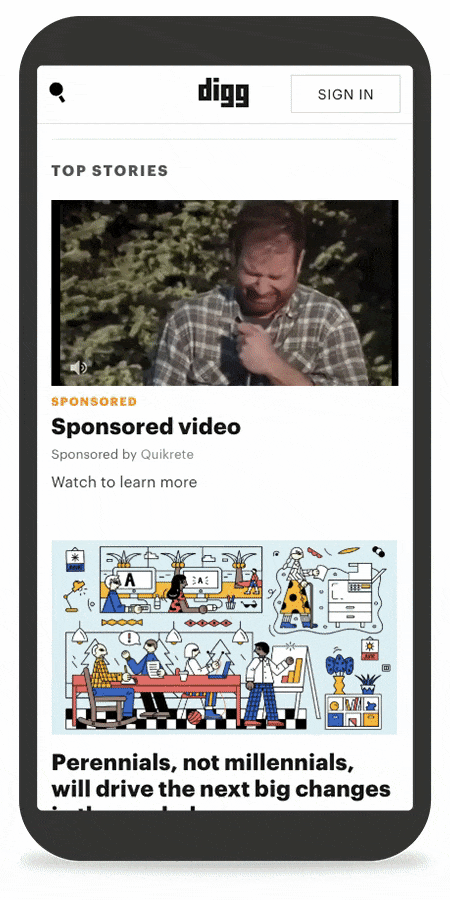 More "Over-the-Top" Ads
Cord-cutting has been a major trend in content consumption, and that is only accelerating as consumers shift away from expensive traditional cable models to connected TV and over-the-top (OTT) television experiences they can control. Even though the decline in linear television viewership poses long-term risks for overall audience reach, television commercials will continue to command higher CPMs than digital, showing just how powerful the video ad format can be. Luckily, the advertising landscape for connected TV and OTT is blooming.
"57% of all ad views are now delivered either via over-the-top (OTT) devices or through set-top-box video on demand (STB VOD). In particular, OTT devices grew rapidly at 54% year-over-year, continuing a multi-quarter trend."
It's estimated that by early next decade, more people will likely watch over-the-top (OTT) video than traditional pay TV, and addressable TV advertising spend is "expected to grow from $2.06 billion this year to $3.37 billion in 2020." OTT Video will give advertisers a platform to reach the right users, providing stronger targeting capabilities than traditional linear environments. Audiences are already filling the connected TV and OTT space at rapid rates, and now it's time for the industry to catch up. In 2019, expect video advertising plans to make a momentous shift from linear to OTT.
Video Will Become More Immersive
In a world of growing Continuous Partial Attention, brands must fight amongst many other distractors to grab a user, forcing them to reevaluate the ways they tell stories. Virtual reality has captured audiences and set a new standard in storytelling, allowing users an opportunity to feel they are part of the experience. Therefore, it makes sense that advertising stories will expand into more immersive and compelling formats. One way TripleLift envisions this taking shape is through the use of 360° Video, which allows a user to initiate a 360° video environment upon click — fully enveloping them in the brand's story. This is often used for driving engagement and capturing user attention.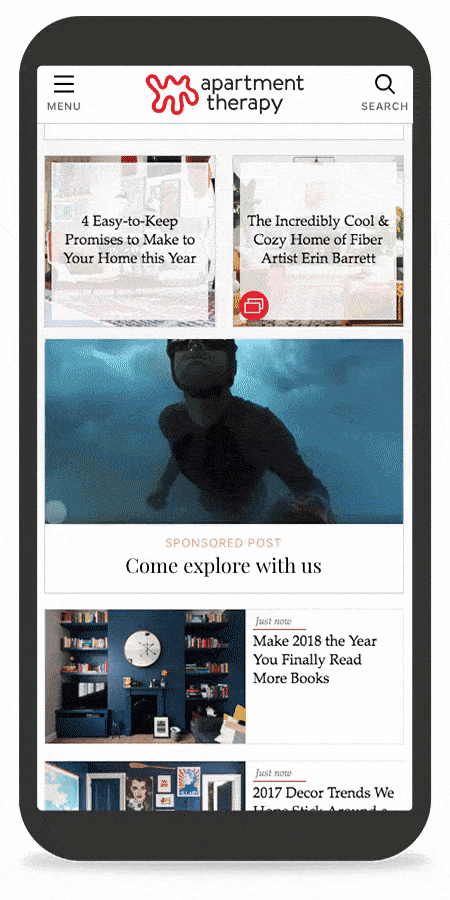 Stronger Stories
When it comes to video ads, the quality of the story matters just as much or more than the length. In fact, video ad lengths were previously derived as "a function of price, not attention or effectiveness." While in the past brands were encouraged to make videos shorter with viral potential, successful video advertisers realize that consumers will watch varying lengths as long as it connects with them. In a Think with Google study, a shorter ad performed best for ad recall, while longer ad lengths performed better in favorability and view-through rate. To find your sweet spot, launch strong story narratives of varying lengths that align with your KPIs, and monitor performance to see which ones your audience is drawn to.
If you want to see what has the highest potential to deliver on goals, our TripleLift Formats Guide can help.